High Energy Music From the 20's and 30's
Played by men in top hats and derbies. The Busted Jug Band's music is a festive romp through time featuring group vocals, swinging rhythms and novel instrumentation. Inspired by the street bands of the early 20th Century, the group features kazoos, washboard, mandolin, banjo-uke, washtub bass, harmonica, accordion, jug, rhythm bones, National guitar, slide whistle and bicycle horns. The group plays music of the classic black Jug Bands and String Bands of Memphis and Mississippi, and small Swing Bands and vocal groups of New Orleans and the Urban North. Country Blues, novelty songs, standards, early Jazz and Hillbilly music are some of the styles featured.
During the Jazz Age, musicians who couldn't afford trumpets, tubas and drums replaced them with homemade instruments, such as kazoo, washboard and jug. Thus the Jug Band sound, sometimes called "poor man's Jazz", was born. This was revived in the 1960s with groups like Jim Kweskin's Jug Band. The Busted Jug Band pushes the Jug idiom beyond its historical confines. Homemade instruments are modified with modern techniques for maximum impact. Inspiration has come from the likes of Spike Jones & His City Slickers and Hoosier Hotshots. Vaudevillian sight gags, jokes and colorful stage attire round out the show and fun reigns supreme.
BOOKING
INQUIRIES:
Booking@TheBustedJugBand.com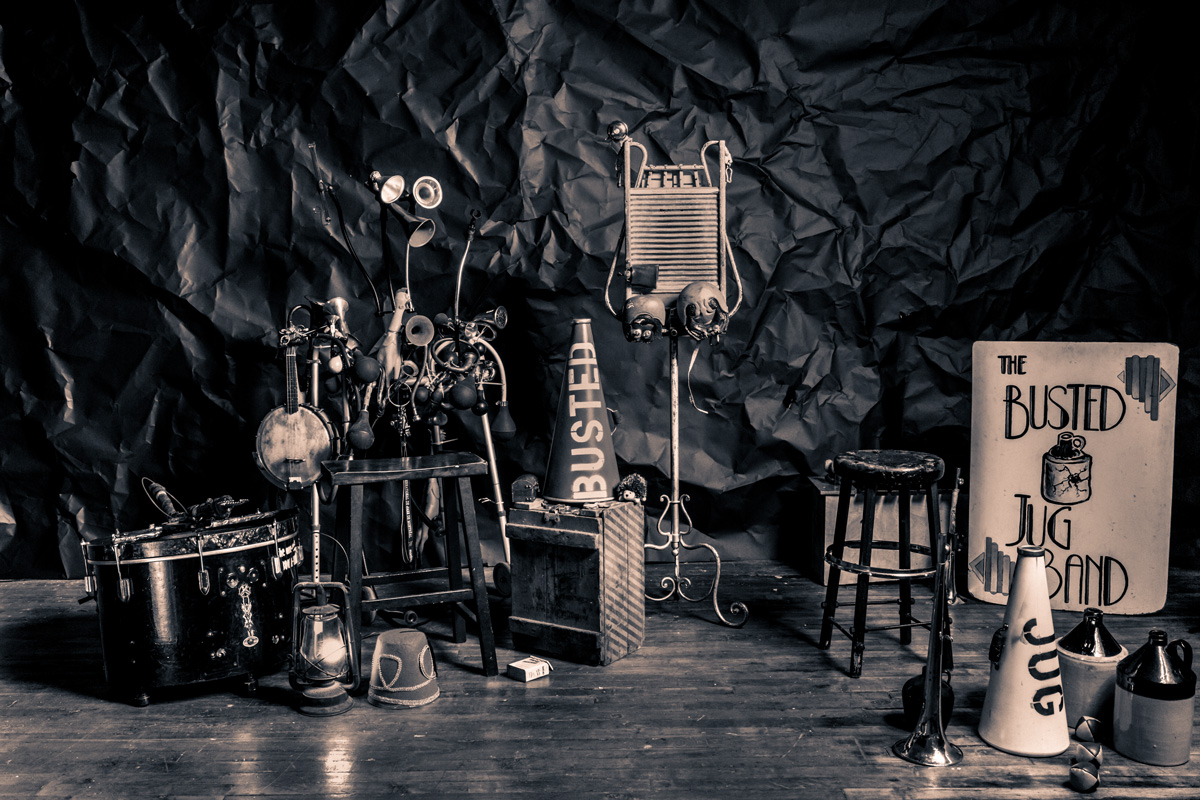 Similing Hernando
(Pee Wee)
Banjo-Uke, Ukulele, Slide Guitar, Mandolin, Banjolin, Kazumpet, Kazoophonium, Bulb Horn, Jaw Harp, Slide Whistle
Guitars, Banjo-Ukulele, Squeeze Box, Field Organ, Kazombone, Vocals
Harmonica, Guitar, Mandolin, Kazoo, Kazombone, Jug, Vocals
Wash'n'Speil, Bones, Corrugated Tie, Kazoo, Vocals
Boom Bass (Cadillac Of Washtubs) Kazoboe, Halusi
"Music didn't get any better after jug bands; it just got different."
I first met the members of the Busted Jug Band between sets in the alley outside a Camberville pub early on during their mulit-year residency. I figured they were poor, what with their habitual appeal to the audience for funds, but it didn't prepare me for what I saw: five grown men (well, four are actually grown) gathered around, sharing one cigarette. They seemed happy enough, though, and as it went around the circle, they began to reveal their story. I started getting happy, too. Smiling Hernando Slim (aka Pee Wee Wheatgrass), bonified Diva and self-styled King-of-the-Street-Singers-in-exile ("I refuse to work under these conditions!") is the de-facto leader of this band of anarchists. On his move to indoor venues, he says, "It was time to come in from the cold if I wanted to grow musically." Strange choice of words from a man who plays the ukulele because it makes him look bigger. Mr. Rev. Dr. Kayola O'La worked as a mountebank, drawing crowds with his sweet tenor before pitching his "Miracle Tonic." It was inevitable he and Slim cross paths, given their mutual taste for the Great American Songbook as well as opium, an active (and unlisted) ingredient in Byrne's cure-all. Known throughout the land, especially by women and always by different names, a sloppy-drunk jam with Wheatgrass convinced O'La to seek refuge in the Seven Hills of Somerville. (Or was it the mounting warrants and paternity suits?) Speaking of suits, Professor (emeritus) Early Bird lived in an ivory tower with a wool sports jacket and patched elbows, turning out fan fiction between teaching expository writing to millennials. Until he got caught smoking banana peels with students in their dormitory. He claimed it was "research," but from there it was a short fall into the blues, the harmonica, the musical jug and, finally, the band. "Speaking of musical jugs," I asked, "What makes you guys want to play century-old music on obsolete instruments?" "Obsolete?!" shouted Rude Boy, resident washboard player and former juvenile delinquent, "I'll scrub that damn nose off your face!" "Calm down, Rude Boy!" cried Slim, stepping between us. "We won't bail you out again," he said before turning to me. "I'll thank you not to use that word. Rude Boy spent years developing his specific arsenal of percussion, and in his hands it's a weapon." I had a feeling he meant that literally. "And I think you'll find," added Lefty Boom-Boom, the jug band's low-end specialist, "My Boom Bass is the Cadillac of one-string basses." Lefty is the group's often-silent philosopher, a skill he honed over years of working as a model for cigar store Indians. "We retreat," he added, "from that which pursues us." I guess that explains their repertoire and approach to fame. "We're committed to performing this music authentically," squawked Early Bird, "That's why we don't use amplifiers." I suspect the motive was laziness, although the plan seems to have backfired: their stage set includes an ever-expanding collection of cheap lights, old photographs, rubber chickens, pink flamingos and bulb horns, adding visual excitement to their dulcet tones and spot-on renditions of songs that were a hit before your mother was born. And her mother. Music didn't get any better after jug bands; it just got different. I floated back into the club with these other jug-heads, so glad I went outside to check the cloud cover with them.
- General Gau